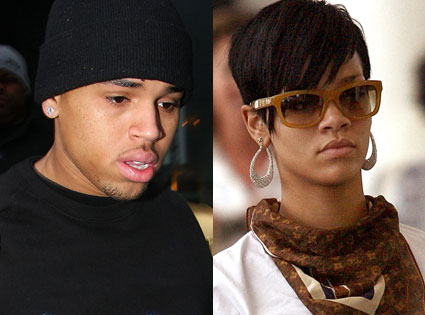 Reports are saying that the saga between Chris Brown and Rihanna began with a text Chris got from another female.
The New York Daily News is reporting an industry source told them,
"He got a booty call. He got a text. Rihanna saw it and she got upset. They started to argue. She got out of the car. He wanted her to get back in, she grabbed her, she pulled away. That's when she's told people he hit her. When cops arrived Rihanna had visible injuries and she is now cooperating with the investigation. Chris has been trying to contact her. So far she hasn't taken his call. Her family is on their way to be with her. She has some close girlfriend looking after her."
Cops say the couple was driving a rented Lamborghini in the Hollywood Hills early Sunday when the fight started. They parked and got out and the argument errupted. Cops responded to a 911 call and found Rhianna with a split lip and contusions on her head, says PEOPLE.com. She also reportedly had bite marks on her hand. The DA is asking for a further investigation of the events before pursuing the case.
Many celebs close to Rhianna are weighing in on the event including Kanye West and Jay-Z.
Kanye said to Ryan Seacrest on the radio,
"It's so devastating. I feel like, just as a person, I don't care how famous she is, or even if she worked at McDonald's, the should have never happened."

A source said Jay-Z is very protective of her he is the one who discovered her he is very upset by this.

"He hit the roof. Chris is a walking dead man. He messed with the wrong crew."
Chris Brown has been in hiding since the incident.